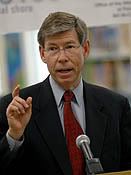 Somebody needs to send Florida Attorney General Bill McCollum (photo) a simple message: "IT'S OVER!!!" Apparently McCollum still hasn't figured out that the gaming compact signed by Governor Charlie Crist is a DONE DEAL. Here are some excerpts from the Jan. 3 Sun-Sentinel
article
about the Department of the Interior approving the compact between Governor Crist and the Seminole tribe:
The U.S. Department of the Interior has approved the gambling compact between Gov. Charlie Crist and the Seminole Tribe that would allow blackjack, baccarat and Las Vegas-style slot machines at the tribe's seven Florida casinos.

A spokeswoman for Attorney General Bill McCollum said Wednesday he will move quickly this week to get a federal judge to hold a hearing on a lawsuit filed last month to stop the agreement from going into effect until the Florida Supreme Court can decide whether it is legal.The compact has to be published in the Federal Register to take effect. The earliest that could happen is Monday, said Sandi Copes, McCollum's spokeswoman.

"We're right now exploring our options to best expedite our lawsuit," Copes said.

Crist and the tribal council signed the compact in November.

In exchange for the state allowing expanded gambling at the tribe's seven casinos, Florida would collect $375 million over the first three years and a minimum of $100 million annually for the rest of the 25-year deal.

...Barry Richard, one of the Seminole Tribe's attorneys, said the Department of the Interior had 45 days from the Nov. 14 signing of the compact to raise objections. He said Wednesday night that he didn't know whether the Interior Department formally approved the compact or let the 45-day window lapse without taking any action.

From the federal government's standpoint, publication in the Federal Register is the last step for the compact to take effect.

The tribe has given no indication how quickly it could start offering expanded gambling if the legal challenges are resolved in its favor.