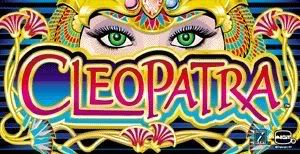 The new 2¢ machines are definitely worth checking out. One of the most popular of these new 2¢ games is the Cleopatra machine. You can bet 20, 40, 80, or 100 points per spin or 40 cents, 80 cents, $1.60, or $2.00. A couple of Sundays ago, I was on my way out the Hollywood Casino when I decided to give a 2¢ Cleopatra a whirl. Maybe it was beginner's luck but with just 2 bucks that I put in the machine, the 3 Sphinxes quickly came up giving me 15 free spins. Then I got another 15 free spins when during my free spin session another 3 Sphinxes showed up. Final result is that I made a net win of $32 just with my two buck investment.
My luck held the next day when I put $10 into the Cleopatra machine and ended up winning almost $70. Of course it sure helped when I racked up over 3000 points with my 15 free spins when the three Sphinxes made their arrival. Next evening I won "only" $8 net total. However, I figured it was like getting a free prime rib buffet dinner since that is what it cost me for dinner and tips.
The whole secret of the Cleopatra machines is waiting for the 3 Sphinxes to show up to give you their 15 free spins. One lucky woman was Martha who I observed getting FIVE Sphinxes at one time. Needless to say, Martha had a VERY GOOD session with the Cleopatra machine.